Dolphins & You (Dolphin Watch + Turtle Swim & Lunch)
Dolphin watch plus Turtle snorkeling, Ocean activites & Lunch included!
Dolphins and You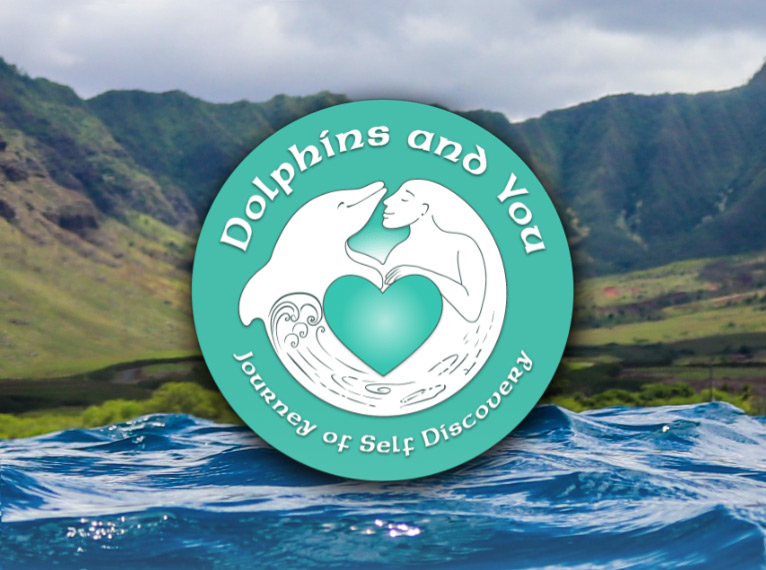 Turtle Swim on Dolphins & You Watch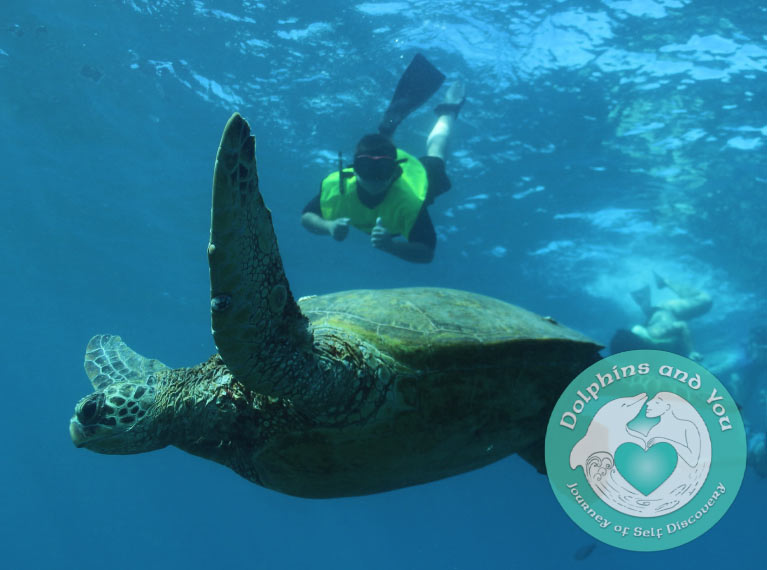 West Coast Oahu Dolphin watch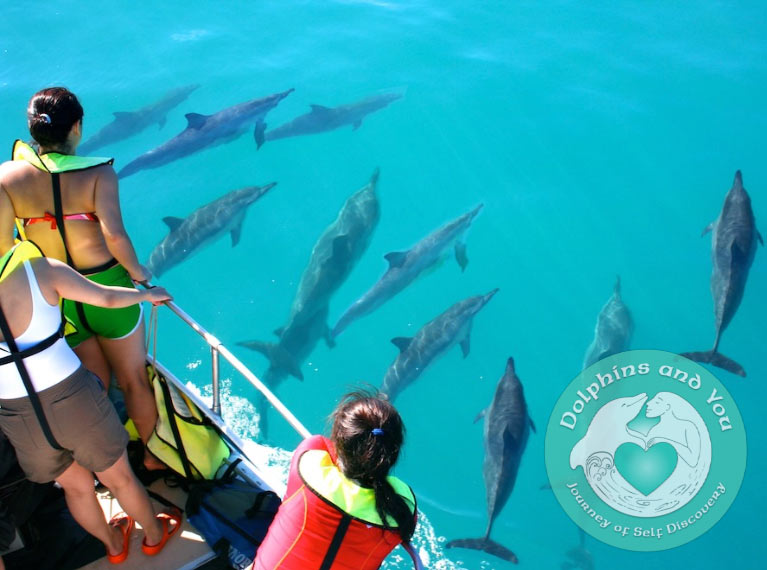 Uno Lunch Included!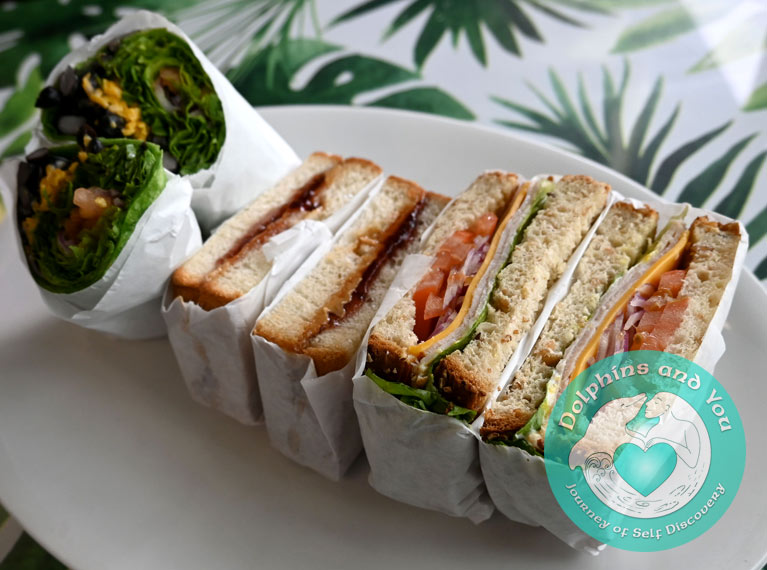 Fun Paddle Boarding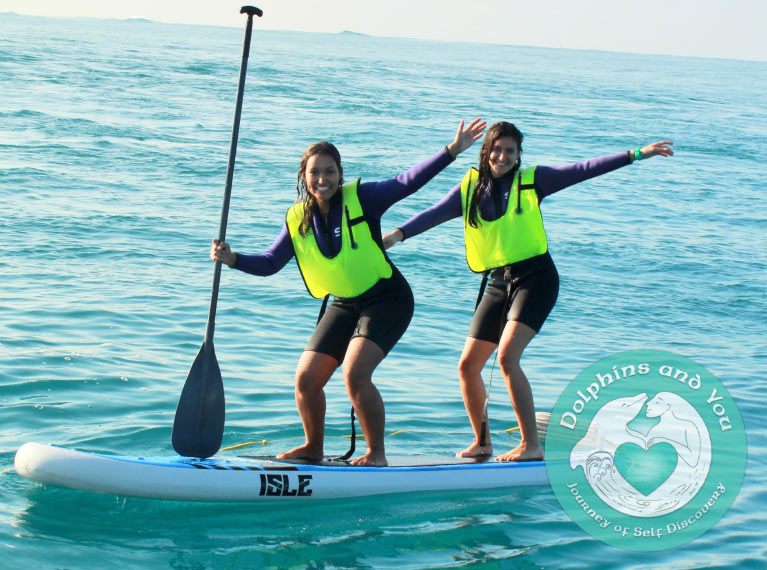 Dolphin Tattoo (Optional)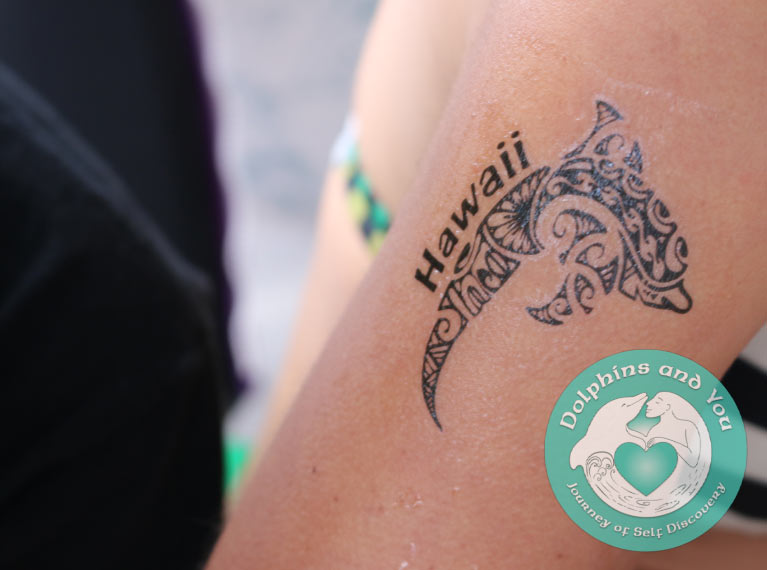 Open Ocean Kayaking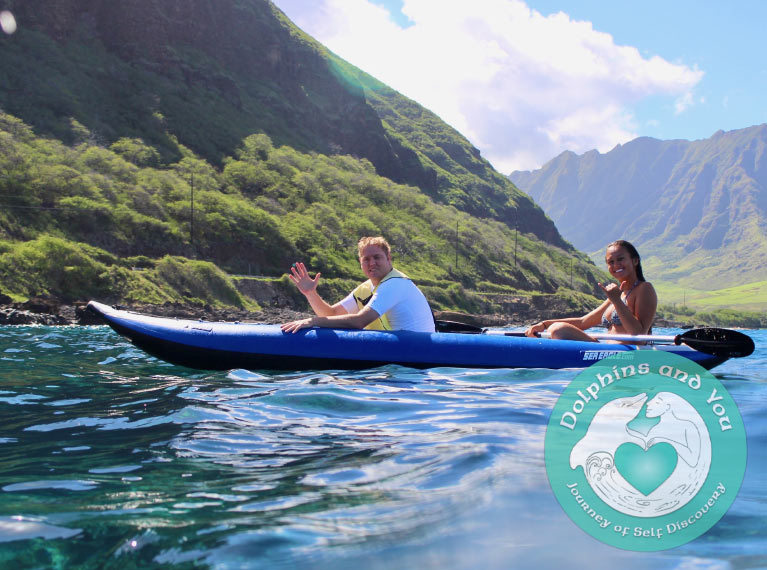 On-Board Entertainment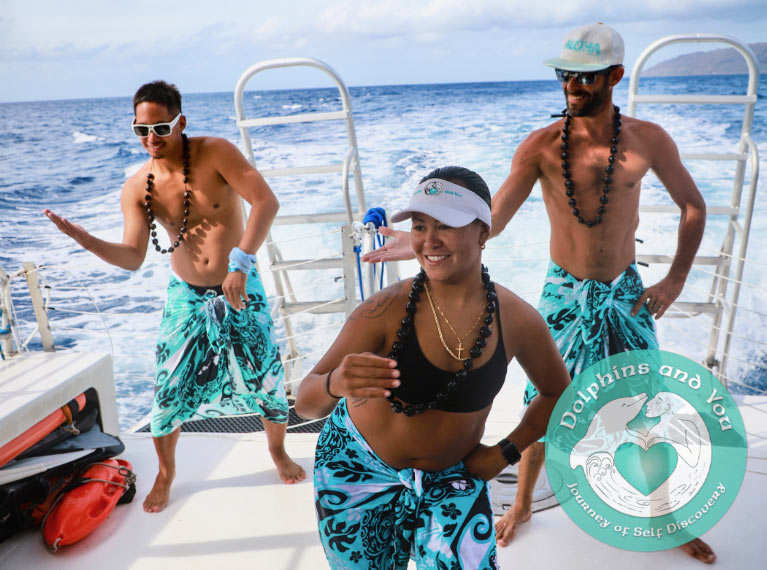 See wild dolphins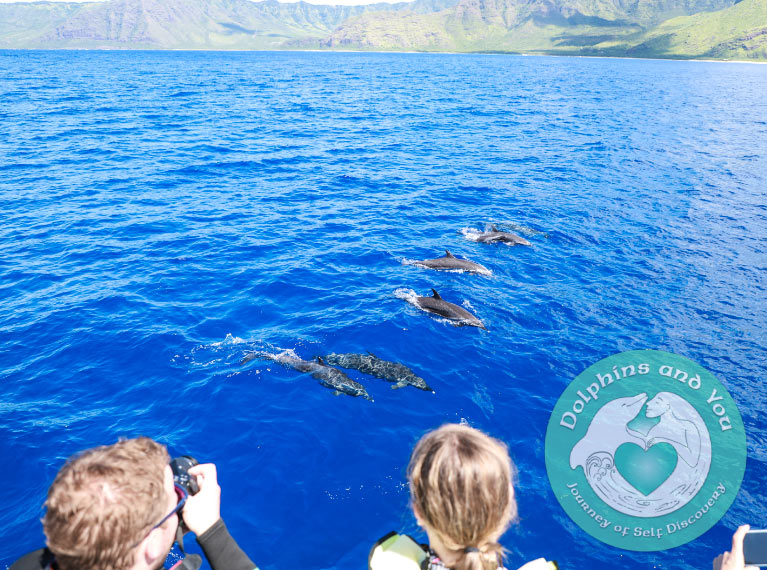 Overview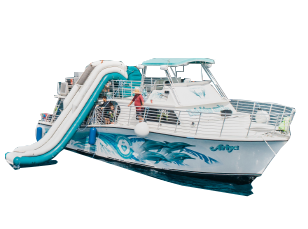 On this 3 hour excursion, you will take in the breathtaking views of the most untouched coastline of Oahu while experiencing the magic of wild dolphins, safely and respectfully. Your day will conclude with a snorkel with marine life such as Green Sea Turtles, tropical fish, and much more in the pristine waters of the pacific ocean.
Keep your eyes on the horizon for sightings of Hawaiian spinner dolphins, or humpback whales in winter. Great for all ages and levels of swimming experience, our tour is led by a knowledgeable, water safety-certified crew.
Highlights:
Dolphin Adventure
Turtle Snorkeling
Lunch Included
20 Foot Water Slide
Kayak & Paddle Board
Hula Dancing & E Homai
Waikiki Hotel Transportation
Hawaiian Tattoos
Group Picture
Activity Times:
1st Tour: 7am (1st Pickup: 5:10am)
2nd Tour: 11am (1st Pickup: 9:10am)
Activity Duration:
3 Hours
Upgrade Options:
$10 Wet Suit Rental
$79 Photo & Video Package
Tour Schedule
5:10 AM (Second Tour: 9:10 AM)
Bus Pick-Ups Begin
7:00 AM (Second Tour: 11:00 AM)
Arrive at Waianae Harbor
7:15 AM (Second Tour: 11:15 AM)
E'Ho Mai Ceremony
7:45 AM (Second Tour: 11:45 AM)
Our Amazing Crew
8:15 AM (Second Tour: 12:15 PM)
Watch Dolphins in the Wild!
8:30 AM (Second Tour: 12:30 PM)
Prepare to snorkel
9:00 AM (Second Tour: 1:00 PM)
Snorkeling & Ocean Activities
9:15 AM (Second Tour: 1:15 PM)
Complimentary Lunch & Tattoo
10:00 AM (Second Tour: 2:00 PM)
On-Board Entertainment
10:30 AM (Second Tour: 2:30 PM)
"A Hui Ho"! Until We Meet Again!
Videos
Dolphins and You w/ Lunch Included too!
Description
Please check in before boarding the boat.
Docked in the Waianae Boat Harbor, our ship – Ariya I – has two decks, surround-sound, a Titanic-style bow and a bathroom onboard.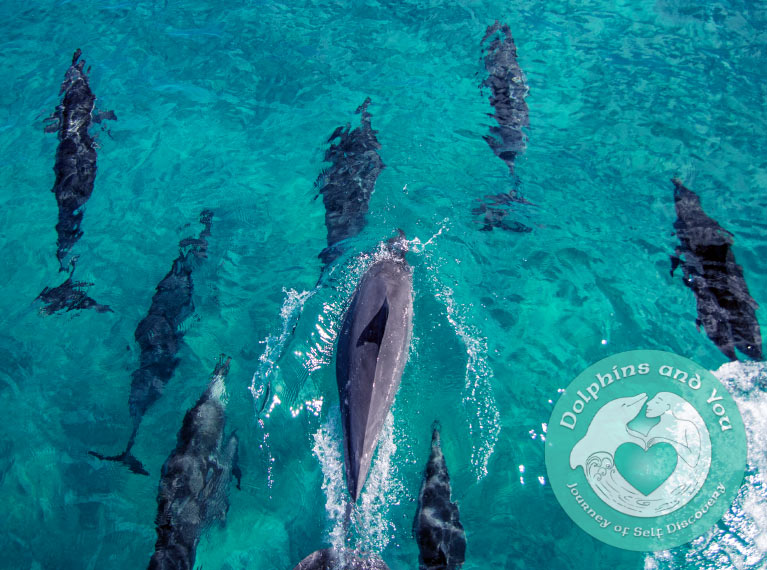 You will be asked to remove your shoes before boarding the boat. This is for your safety. We will have storage for you to place them in during your time onboard.
Filled with the Aloha Spirit, our dynamic crew members are all masters of the sea! Our crew is CPR-certified and trained in water safety. They will inform you how to stay safe on the boat.
Adult beverages are available onboard. Please have your ID ready if you would like to purchase.
Following departure, we will begin our boat ride by reciting a Hawaiian chant called, "E'ho mai". It is a prayer to the gods of the sea for a safe trip with plentiful marine life.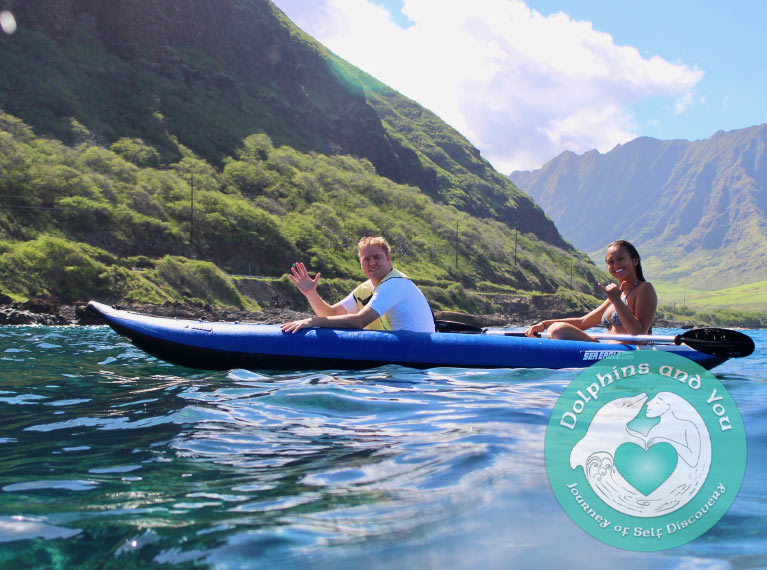 Once we arrive to our destination, our crew will begin with a snorkel briefing on how to properly use the mask/snorkels and life-vests.
Then it's time to jump in the water and explore! Hawaii's clear waters and a sunny day will produce beautiful colors, bringing the reef to life. You'll see Hawaiian reef fish and turtles!
After snorkeling, guests will have an opportunity to explore different parts of the boat–from the wraparound bow to the 2nd-floor deck for optimal scenic viewing.
Our crew will share information on Hawaiian marine life, such as turtles, dolphins and whales. We may even see some dolphins and whales during our journey!
After a fun-filled day in the ocean, enjoy a complimentary lunch. Take in a live hula performance as you enjoy your lunch.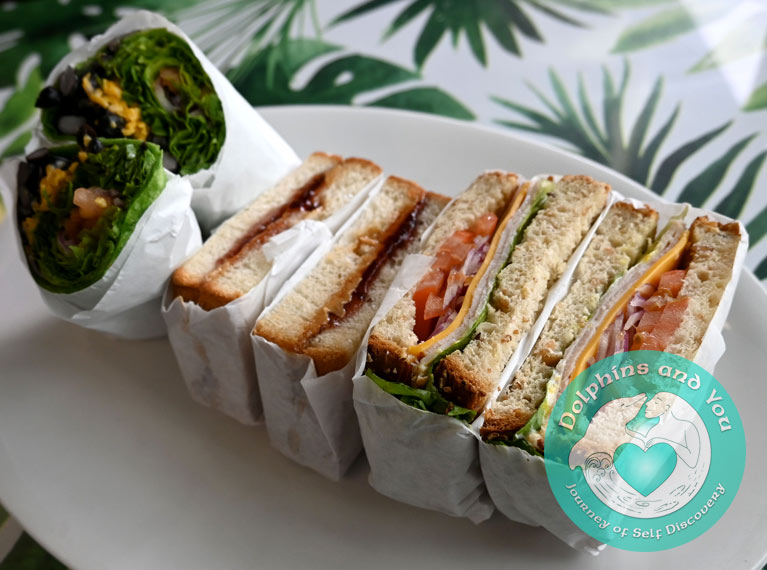 As a new member of our Dolphins and You ohana (family), we celebrate your Oahu turtle snorkel with a special gift!
Our original polynesian-style temporary dolphin tattoo! This isn't available anywhere else but with Dolphins and You. Just our way to say "thanks" and "mahalo"!
After a fun-filled adventure, we head back to the harbor.
Sit back, relax, and enjoy the crew's Hula Show. At the end, please join us as we dance together to spread Aloha and give thanks.
Thank you for joining us on a fun-filled adventure on the ocean! Please don't forget about all the sea creatures you've met on this adventure!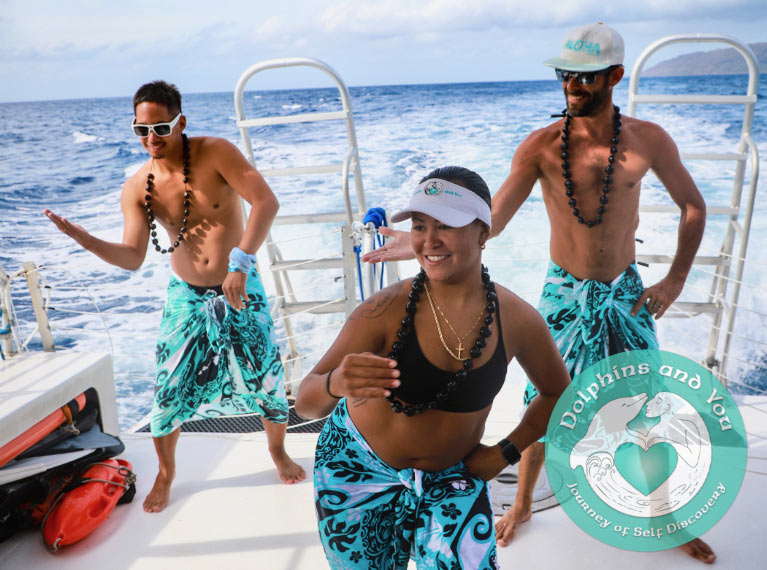 Know before you book:
Swimsuit (please arrive ready to jump in the ocean)
Beach Towel (oversized preferable)
Reef safe Sunscreen, Sunglasses, Hat
Long-sleeve Jacket or sweat Shirt (Winter Time)
Canned alcoholic beer, wine, seltzers and non-alcoholic soft drinks for $5/each.
Sales tax may apply to all optional purchases.